A titanic challenge awaits you in this Alsatian restaurant! At Da Giu', you can order a pizza one, two or even three meters long! Something to share a friendly and very gourmet moment.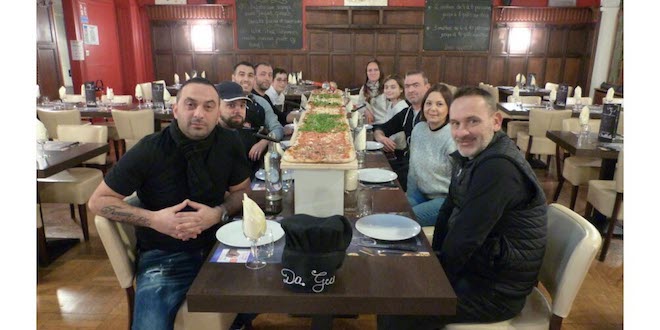 This Alsatian restaurant offers a pizza three meters long! Credit: Aurélien Ruesterholz / L'Alsace
See also
Are you the type to take up the craziest food challenges? So we found the next one that should please you. Last summer, it was the Pizza Hut brand that launched a giant pizza almost a meter long! With its 36 shares, it had delighted the stomachs of the greediest among you. But next to this Alsatian restaurant, a one meter long pizza is nothing… In Uffholtz (near Mulhouse in the Haut-Rhin), the manager of the pizzeria Da Giu', Giuseppe Galtieri, now offers a pizza… three meters long! "To attract as many people as possible and above all to make people dream after this difficult time for us, we wanted to set up something friendly to share in joy and good humor.", explains the restaurateur to the newspaper L'Alsace.
And the least we can say is that yes: it makes you dream. On the table, the three meter long pizza seems endless! But your greedy stomachs are ready to take up this monstrous challenge, aren't they? Available without reservation and without pre-order, you can come to Da Giu' at any time to try this gigantic pizza! Giuseppe Galtieri also offers the possibility of ordering a one-meter or two-meter pizza if there are fewer of you (or quite simply less greedy). No more arguing about choosing pizza recipes since you can select up to 10 tastes!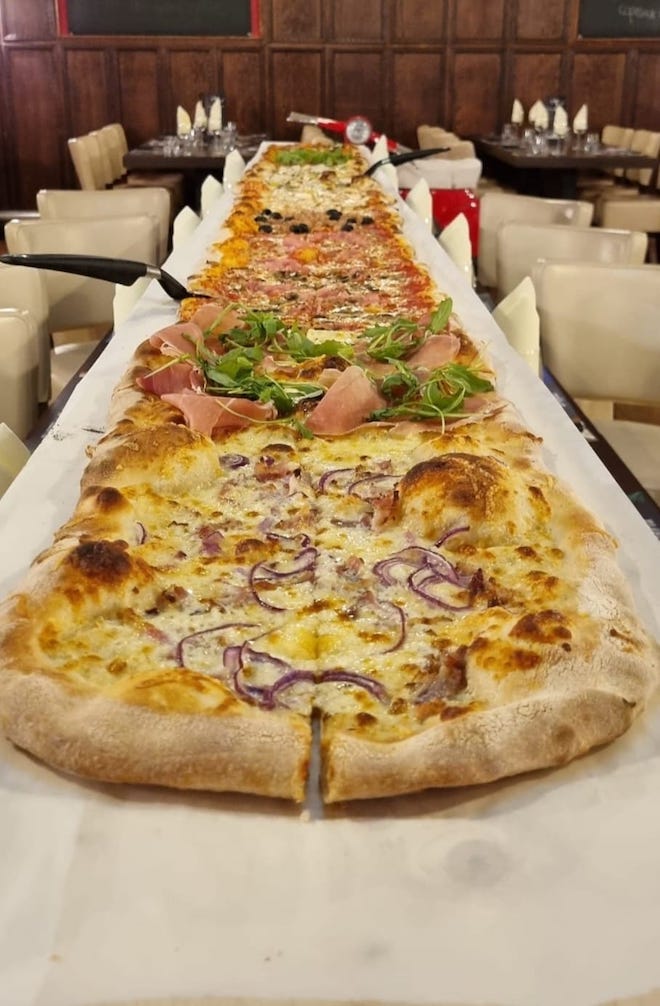 Will you make it to the end of the giant three-meter pizza? Credit: Da Giu' Uffholtz / Facebook
A three-meter pizza, the new gourmet challenge in this Alsatian restaurant!
It was in mid-January that this challenge was born at Da Giu' in Uffholtz. "It is unique in Alsacebreathes the owner of this pizzeria restaurant. He even rejoiced in the columns of L'Alsace that "the concept was immediately a great success. People appreciate this novelty.So if you have a large family, a sports team or just a bunch of friends ready to take on a giant pizza, you now know where to go! "We do the "one meter" for two to four people, the "two meters" for four to six and the famous "three meters", we recommend it for eight to ten people"says Giuseppe Galtieri.
But then what can you put in your pizza? Because a pizza three meters long is very nice, but it has to be able to suit everyone's taste buds. Rest assured, you will be able to mix the recipes as you see fit! For the "one meter", you have the choice of up to four tastes. For the "two meters", you can choose up to six flavors. Finally, for the gigantic pizza three meters long, you can choose up to 10 different recipes! Perfect if you want a honey goat, a tuna, a ham, a seafood, a 4 cheese and so many other pizza recipes.
At €40 per metre, Da Giu' offers you a unique experience with these giant pizzas. And if you're wondering how the chef manages to cook this marvelous monster of Italian cuisine, Giuseppe Galtieri won't tell you: "Hush, it's a secret". So the mystery remains, but not like this giant pizza that won't last long on the table…